Introductions of Concrete curing blankets
1. In winter or low temperature environment, how to curing concrete? PAMAENS electric heating blanket is one of the best solution, which is simple, convenient and costs lower. 
2. In order to accelerate the hardening process of concrete, put it under higher temperature conditions for hardening curing, which is called thermal curing. The ordinary solution is steam curing. To meet market, PAMAENS develop heating blanket to curing concrete, which shorten the curing and construction period, saving construction costs. The heating blankets are made of fire retardant and water proof material, which is save and convenient to use.
3. The development of concrete electric blanket curing technology is closely related to the development of building materials, energy and other industries;
Compared with other solutions, the electric heating blanket curing solution is easy to control, improve the contruction efficiency.
4. Placing the electric heating blankets on the surface of the concrete, the concrete will be heated gently and evenly.
PAMAENS electric heating blankets have three layers, which keep the temperature long time and reduce the heat loosing greatly.
5. Electric blanket concrete curing solution is safe, reliable, and simple and easy to construction. Now it has been widely used in petrochemical, steel, construction and other fields. 
Heater Blanket for Concrete Curing is high efficiency, low costs heating solution for concrete curing. It is normally used to keeping the material inside the tote warm during transportation.
Comparing with other one time used aluminum foil heater, PAMAENS aluminum heater has much longer lifetime, normally it could be used 2-3 years, as the multi-strand heating wire has higher efficiency and lower failure rate. The heating wire is insulated thickned silicon rubber, making the wire safe and flexible.
PAMAENS Concrete curing blankets Advantage:
PAMAENS use high temperature resistance reflecting sheet as insulation, which could reflect heat 99%, comparing with other material, which is much more efficient and energy saving.
0.7 mm thick aluminum foil as liner and protection layer is safer to use, which has good insulation and high temperature resistance
PAMAENS aluminum heater is built-in thermostat to prevent the heater from over heating.
Specifications of Concrete curing blankets
1 Voltage: 50HZ 220V/110v
2 Rated power: 100-500W/ square meter (according to the user's different needs can be                  customized)
3 Rated current: 0.45A~25A
4 Temperature: Maximum 60 deg C
6 Size: 1 meter x 5 meter, 1 meter x 10 meter
The feature of Concrete curing blankets
A. All the material used for PAMAENS aluminum foil heater are insulated, so the heater is safe to use
B. Muilt-strand heating wire, high heating efficiency and low failure rate
C. Reflecting sheet as insulation layer, which could reflect 99% heat, improved the heating efficiency and energy saving rate
D. Intensification aluminum foil sheet as liner and protection layer, which has good insulation and more durable
Products Show case of Concrete curing blankets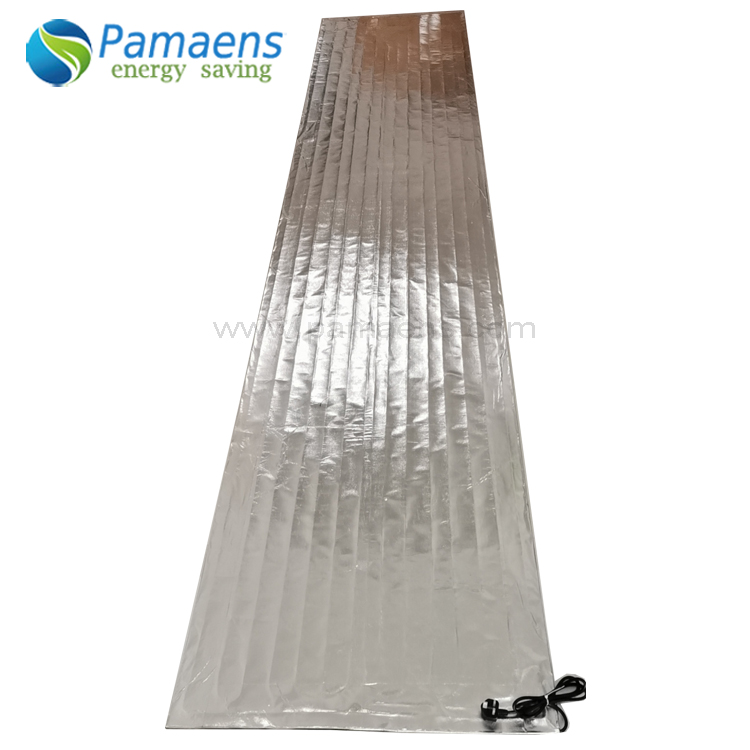 ---
Post time: Oct-11-2020