High Quality Silicon Carbide Heater - Induction Heater – PAMAENS TECHNOLOGY
Product Detail
Product Tags
Related Video
Feedback (2)
, , ,
---
High Quality Silicon Carbide Heater - Induction Heater – PAMAENS TECHNOLOGY Detail:


Specification

Item Name

Induction Heater

Item No.

PM-IH

Voltage

110/220V, 380V, 1 or 3 phase

Wattage

Customized

Construction

Heating coil and control box

Energy saving rate

30% to 50%

Service life time

5-8 years

Maximum wattage density

5 w/sq cm

Sheath temperature:

1000°C

Max. operating temp:

600°C

Wattage tolerance

+/- 5%

Certificates

CE, RoHs

Packaging

Fumigation free wooden case

Material

Heating coil

Epoxy shealth and high quality wire

Insulation material

Ceramic fiber band or glass fiber insulation blanket

Control box

Three layers circuit boards with high quality imported electronic components

Accessories Information

Insulation blanket

Glas fiber insulation blanket which is placed between the induction coil and the barrel

Shrouds

Stainless steel 304 (just for air cooled induction heater)

Wire

High temperature resistance wire is needed according to the distance between your temperature control and the induction heater

Introductions of Induction Heater

Induction plastic heater is a one type of energy-saving heater.  It has many advantages including significant energy-saving, fast heating up, high energy efficiency, low or zero maintenance etc. It can also lower environment temperature by generating much less heat. While installing the induction heater system, there will not involve any major changes to the electrical control system.

Why and how induction heater save energy

Presently, most of the plastic machines are using the conventional resistance heating method, where the resistance wire is heated up and then transfer the heat to the barrel via heater cover.So only the heat close to the barrel surface can be transferred to the barrel and the heat close to outside heater cover is lost to the air which causes a rise in environment temperature.
Induction heater is technology where high frequency magnetic fields which cause he be heated up bu electro-magnetic field(EMF)that are brushing against each other when the barrel is heated up and heat is minimum, there is very high heat efficiency and minimum heat loss to the environment where energy saving could reach30-80%.Due to the fact that the induction coil is not producing any high heat and also there is no resistance wire that gets oxidized and causes the heater to burn out, the induction heater has a longer service life and also less maintenance.

The applications of Cast in Heaters

It is mainly applied to injection, extrusion; blow filming, wire drawing, granulating and recycling machines, etc. The product application includes film, sheet, profile, raw material etc. It can be used for heating the barrel, flange, die head, screw and other parts of the machines. It is excellent in energy-saving and cooling down work environment.
Induction heating is the process of heating an electrically conducting object (usually a metal) by electromagnetic induction, where eddy currents are generated within the metal and resistance leads to Joule heating of the metal. The induction coil itself does not get heated. The heat generating object is the heated object itself.

Attributes of Induction Heater

1. Save Energy

The induction coil is covered with insulation jacket to keep the heat from losing to environment. And by the induction heating principle, this heating technology can save 30-80% energy. In addition, it can save the cost of using air conditioner, fans, etc.

2. Reduce Heater Surface and Environment Temperature

Reduce the heater surface temperature to 40-50℃, and thus safe to touch by hands. In addition, it can lower the work place temperature.

3. Easy To Install

Adopt a half open clamp type with easy installation.

4. Longer Service Life

Under normal and proper working condition, it can last over 2 years with minimum repair cost and we provide 1 year free service. Induction coils work under 100℃ and thus no need for frequent change. In addition, the life of induction heaters is enhanced by using short circuit protection, overload protection, etc.

5. Increase Productivity

Heating up time can be reduced by 1/3 and thus the productivity is higher.

6. Improve the Quality of Plastic Products

Induction heater can be controlled even at a more precise and a stable heating on the material.

7. Higher Power Density

One induction heater can replace 2-3 conventional heaters when there is better control and higher wattage capacity.

RFQ

How many heating zones of your machines

What's the diameter and length of each heating zone

What's the voltage and capacity of each heating zone

Which heating zone is feed port

T/C position

Quantity
---
Product detail pictures: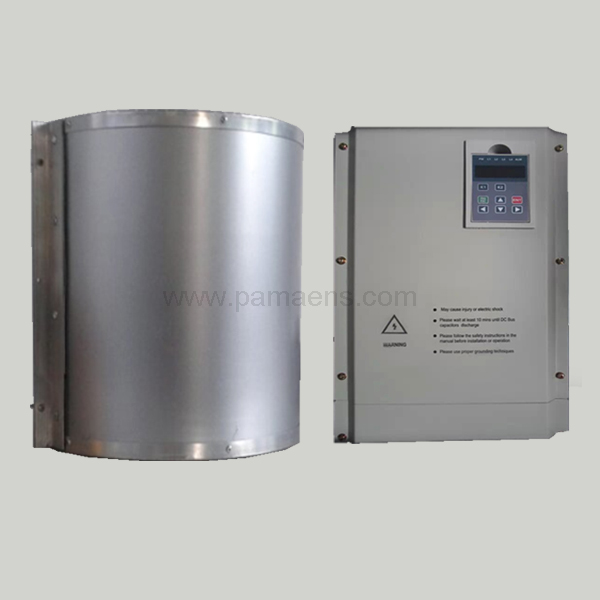 ---
Related Product Guide:
Choosing the Best Fish Tank Heater
How Do Tankless Coil and Indirect Water Heaters Work?

---
High Quality Silicon Carbide Heater - Induction Heater – PAMAENS TECHNOLOGY, The product will supply to all over the world, such as: , , ,

By from -
---

By from -
---